This years trip to Rugby for the annual Helice competition was a bit of a mixed bag for the club contingent. Ten eventually made the journey successfully - Pete and Derek getting lost whilst following Tim and Tosh who also got lost (but not to the same degree).
In total there were 24 competitors who were split into four squads of six, each squad taking there turn to shoot in rotation 6 targets, 6 targets, 4 targets, 4 targets.
It was a fairly close run thing at the top after the first two rounds but (outsiders) Jane Capewell and Barney Kilpatrick both straighting the 2nd round was a sign of things to come. That gave Barney a continuous run of 8 and Jane followed with a run of 10. In the meantime Martin was 'up there' as expected and from nowhere Dick made a late charge but it wasn't to be. Tosh not so much as a bridesmaid - more of a 'usher'. Jane and Barneys little runs proved more than enough to take them into a shoot-off with Jane taking the title with 14+4.
As for the rest of the gang every time I watched them shoot Mike and Graham appeared to be playing at 'anything you can do' .... i.e. you hit it - I'll hit it - you miss... I miss - but obviously I wasn't watching all the time as Mike managed to sneak ahead using his newly acquired 14 bore in it's debut outing.
Last years winner Dave just had a bad day at the office.This came as rather a surprise considering his other successes this year. He did comment (off the record) that polishing all his other trophies was rather time consuming and the 'Helice' trophy was tricky to polish (read into that what you wish).
Tim probably hadn't recovered from spending 90 minutes in a car with Tosh - so that could explain his somewhat erratic shooting (or was it the thought of the return journey). He was though - praised on the performance of his gun - all be it one that he had sold to one of the other competitors the previous week. Pete (SP) couldn't replicate his recent club form - some say he's like a vintage wine - that just doesn't travel very well.
Clare also had a bad day at the office - compounded by losing the 'handbag fund' competition to Derek - and having to present him with a nice crisp £10 note. In the words of the song - 'things can only get better'.
Thanks go to all the team at Rugby and all the competitors - who made this yet another fantastic day.
RESULTS: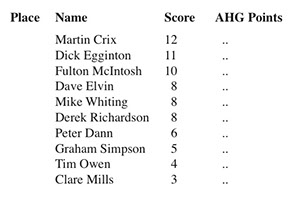 Stoke Orchard, Cheltenham, Saturday September 5th 2015.
For this years trip to Stoke Orchard, Team AML managed to muster seven shooters - Martin, Clare, Bev, Dave, Derek, Dick and Tosh! In total there were 39 shooters on the day.
The targets were what could only be described as 'spot on' all hittable (if you knew how) and no silly slow supposed 'gimmes'. Well thought out and well presented. We also had the great fortune in having scorers and buttoners on each of the five stands. This makes such a difference - there are cases where 'self scoring' is for financial reasons the only option - but having scorers and buttoners makes for a much more relaxed day.
So we had five stands - doubles shooting 3 pairs and singles - 2 of each target
Stand 1 - 2 overheads going away.
Stand 2 - right to left low quartering followed by a left to right looper
Stand 3 - 2 left to right high crossers
Stand 4 - left to right tower followed by low left to right teal
Stand 5 - low going away followed by right to left rabbit.
A point about the presentation of the targets. We had an unusual presentation ref the pairs - in so much that the 2nd bird was on a delay, so not a 'report pair' nor 'simultaneous' - as long as you were aware of this it wasn't a problem.
Considering several of our team had not long returned from 'Portugese Portugal' representing GB in the European championships - they put up a great performance. Tosh and Derek hoped to be wearing 'Sombreros' on the day to try to give them a psychological advantage over the GB team (5 of the team were thwarted by a lone Spaniard in Portugal) but couldn't find any sombreros - hey ho! As it turned out Derek didn't need one - all he needed was his recently acquired 8 bore which gave him a Bronze in the Big Bore Comp. Don't ask him how he shot earlier on in the day….
You can see from the scores below that we (the royal we) held our heads up as usual and got back over our respective borders with booty whether that be trophy, medal or win in the raffle!
Special thanks to Dave Marland, of Gloucester Branch for doing a great job in organising - Cheltenham & District gun club members for assisting with scoring - Marion Marland who organised the cakes with the aid of volunteer cake makers - Sue Davies and Di Capewell who helped Marion with entries and recording scores.
A great day - great targets - great people - great weather - roll on the SKEET!
RESULTS
This year's National muzzle loading skeet competition took place at the newly-opened Eriswell Lodge Shooting Ground. We had been allocated 2 of the 4 skeet layouts for our competition, and the weather was almost perfect, just enough of a breeze to blow the smoke away which was good, but it also had the effect of making the high bird drop rather quickly on both layouts which affected most of the final scores.
With a total of 19 shooters it was good to see some fresh faces. Dave Corneby is fast becoming a 'regular' at the Anglian Muzzleloaders earning a bronze in the double barrel with 19 ex 25. He definitely has the 'bug' and what is more his other half, Rachel, who unfortunately could not attend this shoot, also appears very keen.
We were also honoured by the presence of Nobby Clark and Albert Wall who had kindly transported Nobby to the shoot. Albert entered the hammer gun competition and considering he had some mechanical problems with his gun did not disgrace himself by shooting a 12.
As in previous years, Julie Green had kindly offered her services as a referee. She also joined us for the skeet competition and shot a respectable 5 ex 15. Not bad for a first timer, especially if you study the scores!!
As usual the competitions were closely-fought with some familiar names, bobbling to the top of the leader board. Martin Crix shot well throughout the day winning the double breech loading hammer gun competition with a 22 and, after a shoot-off against Dave Elvin, the single barrel competition with a 13 ex 15.
The shooter of the day must go to Dave Elvin who won the flint with a maximum score of 15 ex 15, and the double barrel muzzleloader with 22 ex 25. His score was a real achievement considering he had just replaced the touch hole and he had hardly shot the gun all year!
Clare shot really well scoring 12 ex 15 which gained her a bronze medal in the single barrel and a gold in the skeet ladies percussion competition ahead of Jane Capewell and Carol McIntosh.
Derek Richardson was, as always, entertaining. An example: - He missed a clay in the single barrel competition and needed to take his repeat bird. He quite happily re-cocked the gun and stood there waiting for the clay without bothering to reload. He appeared quite confused when we pointed this out to him. I think his mind was elsewhere, probably still on the grouse moor! A senior moment indeed!! Derek also won the bottle of 'Proper Job' (very kindly donated by Viking Pete!!) for his use of some absolutely abysmal gunpowder which didn't suit his gun at all, and led to a number of unforced errors.
After the medal ceremony which was kindly fronted by Ed 'the probe' Bettany, some of us retired to the Walnut Tree at Worlington where Carol works. They treated us well and provided us with a super meal to finish off what was a lovely day in great company.
Bev
RESULTS: