We are very pleased to write that we had THIRTEEN Anglian Muzzle Loaders all travel to Otley, North Yorkshire to take part in the first National sporting competition for this year, kindly hosted by the Yorkshire Powder Burners.
Most of us travelled up on the Friday during the day and this was followed by a get together in the evening for a lovely meal in a very relaxing country pub, the Roebuck Inn. This was a fitting start to what was to be a very social and enjoyable weekend.
The forecast for the weekend of the shoot, based near Otley, North Yorkshire was snow & sleet showers, -5 degrees overnight, increasing to -1 during Saturday, the day of the shoot. Dave E reported driving through blizzard conditions in Bedfordshire on his way up early Saturday morning, thankfully this did not deter him or his wife Joy from coming.
Having left the 20 degrees of Suffolk two days before, when we arrived at the ground it was bitterly cold but dry and more promising than the forecast. We parked in a sloping field, facing the gate ready to make an easy exit should the weather deteriorate. Once in the wooded area where the shoot was held, we were out of the cold wind, and as the shoot got under way the sun shone warming us all up (well, a little anyway!).
Shooters were welcomed with the basic on site facilities of tea, coffee and lots of bacon butties! This was followed by a light lunch of hot pies, and mushy peas covered in mint sauce - a Yorkshire favourite!
The shoot competition consisted of 5 stands, with the added luxury of resident scorers (volunteers from the Yorkshire Powder Burners). Single guns shot 4 targets, two of each target, and double guns shot 3 pairs of birds on each stand.
The targets were as follows:
Stand 1
(A) Overhead from behind (B) Fast, dropping R-L crosser.
Stand 2
Single guns - 4 going away targets. Double guns, SIM pair of low incomers, L-R.
Stand 3 - (A) Long orange, R-L looper over trees (B) Long black R-L looper, closer in.
Stand 4 - (A) Low, quartering away orange (B) L-R fast, high teal.
Stand 5 - (A) Slow black incomer, high (B) fast L-R orange crosser, difficult to pick up through the trees.
RESULTS
Notable performances by AML members:
Kevin the Carpet won all THREE hammer gun competitions, including a prize of half a dozen bottles of beer plus a very nicely engraved cut glass tankard!
Mike shot joint highest score in the Big Bore Bowl with a 16/20, and picked up the SILVER medal after shoot off with Stewart from Warwickshire branch. Mike's silver medal is particularly significant as his Cogswell and Harrison (Bertha) misbehaved ALL the WAY through the round!!
Tosh shooting a 15 in the Presidents Cup competition with Bev, and then went on to beat Bev in the shoot off to take the BRONZE medal. Some say that winning a shoot off is as good as winning the gold medal - I think that Tosh might even agree with this.
Clare shooting 17/20 in the Open Single Barrel event to collect the coveted prize of an engraved Whiskey glass & bottle of Whiskey and the title of North of England Muzzle Loading Champion.
Clare's score was one of the equal highest scores of the day for single barrel guns, along with our very own Bushy, and Jane from Warwickshire branch who both shot 17 in the presidents Cup. Sadly Bushy bowed out gracefully and took the SILVER after being beaten by a girl in the shoot off...... However this was Bushy's first National Champs and I am sure he is busy planning his visit to Yorkshire next year to win the trophy outright!
After the shoot offs and prize giving, 37 competitors made their way to the local hostiliary, the Asquith Arms, for an excellent meal. Targets were revisited over and over again, tales of woe (Mike??) were retold, and everyone had a cracking good time.
If you are ever in any doubt as to whether or not to come to one of these national shoots, then ask one of the guys about their day - I think you will find that every single one of them may well be venturing north again next year!
Clare - 'North of England Muzzle Loading Champion'
Another year gone and once more time for the 'Gathering' that is the Scottish National Muzzleloading Championships.
Perhaps not the quite the number of competitors one would have wished for this year BUT we did draw combatants from near and far. Nearish being Tom (an associate member of AML studying at St Andrews so he was able to make a space for Tim to lay his head for a couple of days). The rest of us had travelled north - all bar one that is.
History was indeed made when the Scottish National had a Scotsman who's official residence was actually in Scotland. So Tosh's position at 'token jock' as in previous years was now redundant. The gentleman in question (Simon) had travelled down from Aberdeen and joined us to shoot 'for pleasure' and also came along to the after shoot meal.
So how did the day go?
For those of you who have never taken part in the Scottish - Ron Maxwell and his team of Derek and Derek's son Ross (who's just qualified for the Scottish Olympic skeet team this year!) put on some excellent targets. Using a fitasc type system - where there are set targets on each layout, around which the shooting position changes between competitions - this ensures you never get the same presentation of targets twice throughout the day. This takes a lot of planning and worked a treat (well it did in the morning while we were all together as one large squad shooting hammer guns). There was a hint that it could have rained in the morning / clearing later so a corporate decision was taken to hold back the muzzle loading until the afternoon and this proved to be a perfect plan - the shoot offs were done in beautiful sunshine.
Now when I said all went to plan - it did until we split into two squads for the muzzleloading. Some of us were with Ron whilst the rest went under the guidance of a certain M. Crix. They had decided to start at the nearest stand so Ron's squad walked to the next available stand. After we had shot two stands the 'other' squad appeared - and whilst Martin and Ron were discussing 'where we were' it was discovered that the Martins squad had all shot a stand that was not part of that competition (or any competition for that matter). Suffice to say their scores on the 'non' stand didn't count. Luckily t'was only single barrel and only four targets. I must point out that at no time did any of the other squad laugh at this faux pas.
Results:
They speak for themselves really - from 4 competitions with a possible 12 medals AML shooters managed to bring home 9. Martin bagged 1 Gold and 3 silvers (one of the silvers in a shoot off with Tosh and Tom). Clare with 2 Golds and a Bronze AND pipping Martin, Tosh and Tom by one shot for the wonderful Leuchars Trophy(double barrel percussion). Finally we had Tosh propping up Martin and Clare with 2 Bronze medals both from shoot-offs.
Special mention must go to Tim and Tom - who both shot their socks off - Tom beating Tim by one shot overall and getting into a shoot off with Martin and Tosh for the Silver in the Leuchars. Alas 'twas not to be his first medal - but watch this space.
Following below are the results that relate to AML members - full results can be found at the MLAGB where you will see how close some of these comps were.
Thanks again to Ron and his team - not forgetting Bev who did sterling work on the teas and coffees (no, not our Bev, he's not that domesticated) - and HUGE thanks to John Foster & his son Ed Foster for once more allowing us to use this fantastic ground for the event.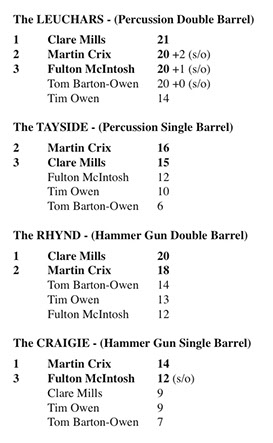 Summer National Muzzle Loading Clay Competition - Yeaveley, Derbyshire
Yeaveley Shooting School is a small and very pretty ground about 5 miles south of Ashbourne. On the Saturday morning, Martin & I arrived early at the ground to be greeted with a very heavy downpour which was to continue into the middle of the morning. Everyone else started to arrive from 9am onwards and after making a mad dash from their cars, they made themselves very comfortable in the shooting lodge drinking coffee and chatting whilst eating hot sausage and bacon rolls.
Just after 10.30,the sky lightened and the heavy driven rain became a fine drizzle as some of the more hardened muzzle loaders ventured out to sample the targets. I am pleased to report that after about 10 minutes of shooting, the rain stopped altogether and the rest of the day thankfully remained dry.
There were 8 Anglian Muzzle Loaders at this shoot, and between us we managed to scoop 11 of the 21 possible medals, 4 of which were Gold!! So well done to everyone, in particular Mike W who won the Warwickshire Shield after beating Dave C and Martin in an exciting shoot off. This is Mike's first ever trophy, a memory he will treasure forever! A special mention as well should be made of Dave E, who shot magnificently to win the Thames Valley, the Baker Flintlock and a silver medal as the runner up to Martin in the Double Barrel. Good shooting Dave.
The targets were varied with the ever popular driven stand, springing teals, fast loopers and some slow incoming dropping targets that were aptly described by many as "easy to hit..... easy to miss...." the latter being confirmed by Mike W in his "memoir of the day" report (click the link to download). Access to the driven stand caused some dismay as the heavy rain had left the ground rather boggy in places - particularly in the stand itself. Derek, ever prepared, was wearing his "dog walking wellies" that he found in his car, only to discover rather too late, that one of them had a rather large hole in the foot!
For Ted, our latest newcomer to the Anglian Muzzle Loaders, this was his first national competition and so that he wouldn't have a long drive to Derbyshire on the morning of the competition, Ted booked into a B&B nearby, which just happened to be a pub, and reportedly was very comfortable. When asked for his comments about his day, Ted said the following:
"I would like to thank all the Anglian Muzzle Loaders who were there for making me feel so welcome. I enjoyed the National at Yeaveley, it was good to have a chat with many of the competitors (whilst it rained), all in all an enjoyable experience. Thanks, Ted."
RESULTS
Thank you to Guy & Lesley at Yeaveley Shooting School for allowing us to hold the competition at their ground, and although the entries were down on last year due to the poor weather conditions, everyone enjoyed their day.
The Hornsey Wood Pigeon Match (Helice) July 2016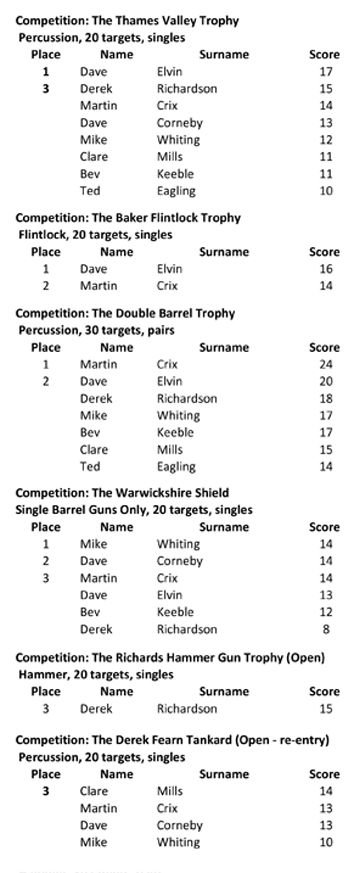 The Hornsey Wood Pigeon Match - Rugby & District Trap Club, Warwickshire
The UK was the original home of Live Pigeon Shooting from around 1825 and it was the first nation to lose the sport some 100 years later. It was not until the 1950's that a Belgian engineer designed the first Helice or "ZZ" target as it was called then, that closely simulated the flight of the Live Bird (ZZ - for zinc, the metal of the wings, and Zurito, the Spanish name for the most famous Blue Rock Live Pigeon). The Hornsey Wood Pigeon Match took its name from the Live Pigeon shooting competitions that took place at the Hornsey Wood Shooting Club based in West London. The competition at Rugby is closely fought, and the winner of this event takes home a very fine bronze Pigeon trophy to keep for one year.
From the organisers point of view, the 4th Hornsey Wood Pigeon Match could not have gone better. The sun was shining, we had a good number of entries which at 28, was an increase on last year, and food and drinks were available in the club house for most of the day. The Anglian Muzzle Loaders were represented by a fantastic SIXTEEN members, a record turnout for any club at a national competition in recent times. Twenty targets in total are shot using three traps (2, 3 and 4), shot from 20 meters rise. Everyone was split into squads of five or six and each squad were to shoot 5 single targets at a time. To add to the suspense and excitement of the competition of such a closely scored match, the last five birds were divided again into three single targets and finally two to finish.
The AML all seemed to enjoy their day immensely with varying results - Dick shot exceptionally well with 12/20 to earn him the Silver medal after a shoot off with muzzle loading stalwart John Richardson from Warwickshire Branch. Really well done Dick, great shooting! Mike & Bev were almost in the medals with each shooting 11/20, so joint 4th for them! Archie shot a good score of 9/20 although he did have a few issues with remembering to cock his gun! I think the extra job of pressing the button to start the target motors running took a bit of getting used to. First timer Kevin just kept shaking his head as the targets flew on regardless as he fired his shot, and Bushy, who finished with 7, was unlucky as he had a few hits but with no separation of the target to earn him a 'kill'. Also competing in this for the first time was Carol, who after a very slow start, had a little bit of tuition from Jane Capewell (last year's winner) and proceeded to hit the next two targets in great style. Although Carol finished on three, she did have a couple of her shots separate a target and the white ring floated on only to land on the ground OUTSIDE the picket fence which counts as a lost bird. How unlucky is that! Some of the more luckier ones (Mike...!!) had their separated target bounce on the ground first before sailing over the picket fence. In fact Mike enjoyed his day so much he has written another "memoir" of his experience for you to enjoy (click here to view). The day was made complete with 22 of us heading for The Wheatsheaf in Crick to enjoy a good meal and chat with new and old friends.
Special thanks must go to John Nightingale at the Rugby District Trap Club for allowing us to hold this special event at his ground, in addition thanks for the unreserved help and support from John and his groundsman Keith in making this all happen and a final thank you to Steve for cooking those big FE breakfasts that kept us going all day and the Cajun chicken specials that I have heard so much about!!
RESULTS
Clare (who also earned another tenner for the fund - thanks Derek!!)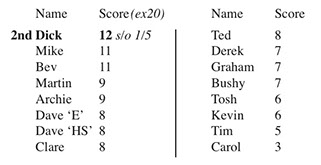 Autumn National Muzzle Loading Championships - Cheltenham & District Gun Club, Saturday 3 September
The Anglian Muzzle Loaders were well represented at the last sporting national of this year, with 12 members attending the shoot. There were nine competitions to choose from and I am delighted to say that the AML had entries in eight of them with considerable success.
The day started at 10am, cloudy but dry with heavy rain due from midday onwards. Needless to say that most of us opted to save the Blue Rock DTL competition (under cover!) until the afternoon. Thankfully the day was not spoiled by the weather as the promised rain was much less than forecast.
The sporting targets were shot over the five stands as usual - the single barrel competitions can only be described as "easy to hit, easy to miss" with a variety of targets, low fast crossers, fast crossing rabbits, an edge on chondel and on stand 5, oscillating going away targets. The same targets were used for the double guns using simultaneous pairs with a built in delay for the second target. In some cases the timed delay was a bit short which made some of the pairs particularly challenging. The Blue Rock competition was shot from an oscillating DTL layout.
The AML won six out of the eight competitions that they entered - with 16 out of a possible 27 medals being presented to our shooters. a truly great performance by all. Special mentions need to be made of Dave Elvin who shot a magnificent 19/20 to win the Nock Flintlock trophy and was the high gun of the day for single barrel. The 'Three Anglian Musketeers' of Bushy, Tosh & Dave Elvin all shot fine scores of 18/20 in the Tankard to find themselves all in the shoot off for the top 3 places, with Bushy clinching the Gold after shoot offs. Dave (HS) was just pipped in the shoot off for the Blue Rock trophy by Martin, after they had both shot 18/20 DTL. In the competition Dave (HS) had been on for a 'Straight' but somehow managed to miss the last two targets - but still some achievement. The Blue Rock was Martin's last competition of the day and it was a nail biting finish between him and Dave E who finished on 17 after dropping his last bird so missing out on the shoot off. Clare was delighted to beat Kevin G in the shoot off to take home the Cotswold Double Barrel trophy and finally Big Bore Bertha and her shooting partner Mike finished with an excellent 18/20 to win the Big Bore trophy.
A fine array of cakes were freely available for everyone to enjoy throughout the day - thank you Marion Marland of Gloucester Branch for organising all of this, as well as the splendid raffle. Thanks also go to the Cheltenham & District Gun Club for the use of their ground and for making us all so welcome. We all appreciated the trappers and scorers on each stand - thank you! The day was finished off at a nearby pub for good food and great company. It was so nice to see muzzle loaders from all round the country all chatting together after a thoroughly enjoyable day.
RESULTS
Report - Clare